Dear Friend,
I am pleased to send you this edition of my electronic newsletter. These e-newsletters enable me to provide information about issues, events and activities in Harrisburg and around the 41st Senatorial District to you in a timely manner while saving postage costs.
If you find this e-newsletter useful, I invite you to visit my website www.senatorpittman.com for more information about your state government. If you do not wish to receive these e-newsletters, please click the "unsubscribe" button at the bottom of the page.
I also want to extend my best wishes for the season as well. From my family to yours, I wish you a very merry holiday season and a bountiful and healthy new year.
Sincerely,
Joe
---

Students Bring Christmas Cheer to My Indiana Office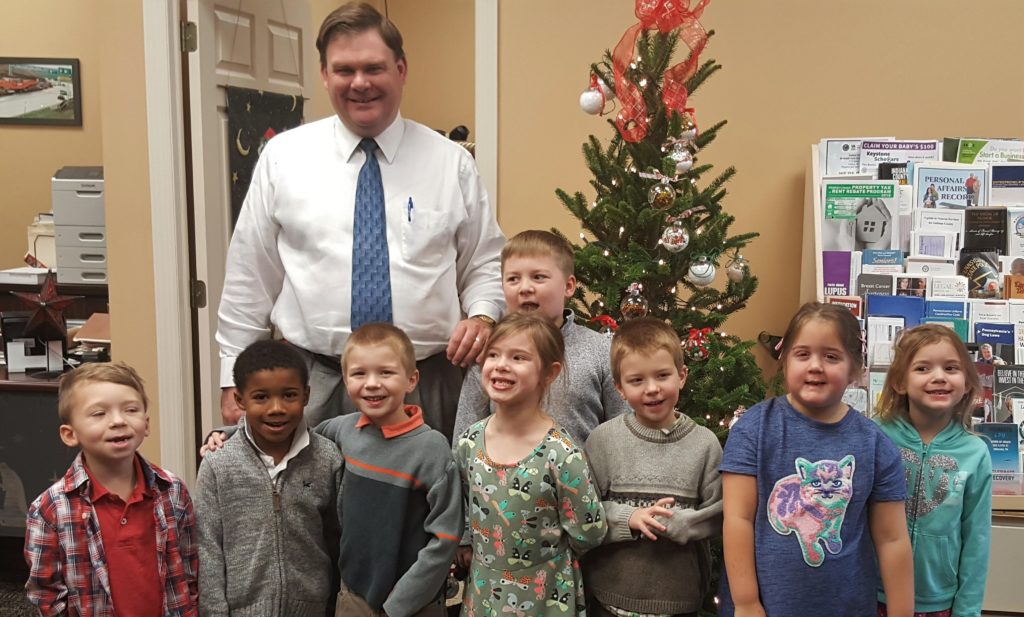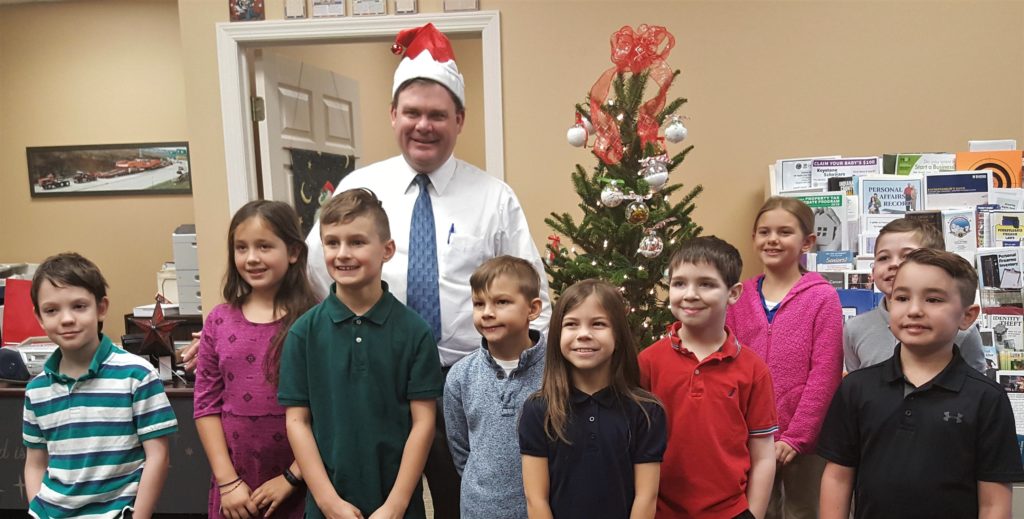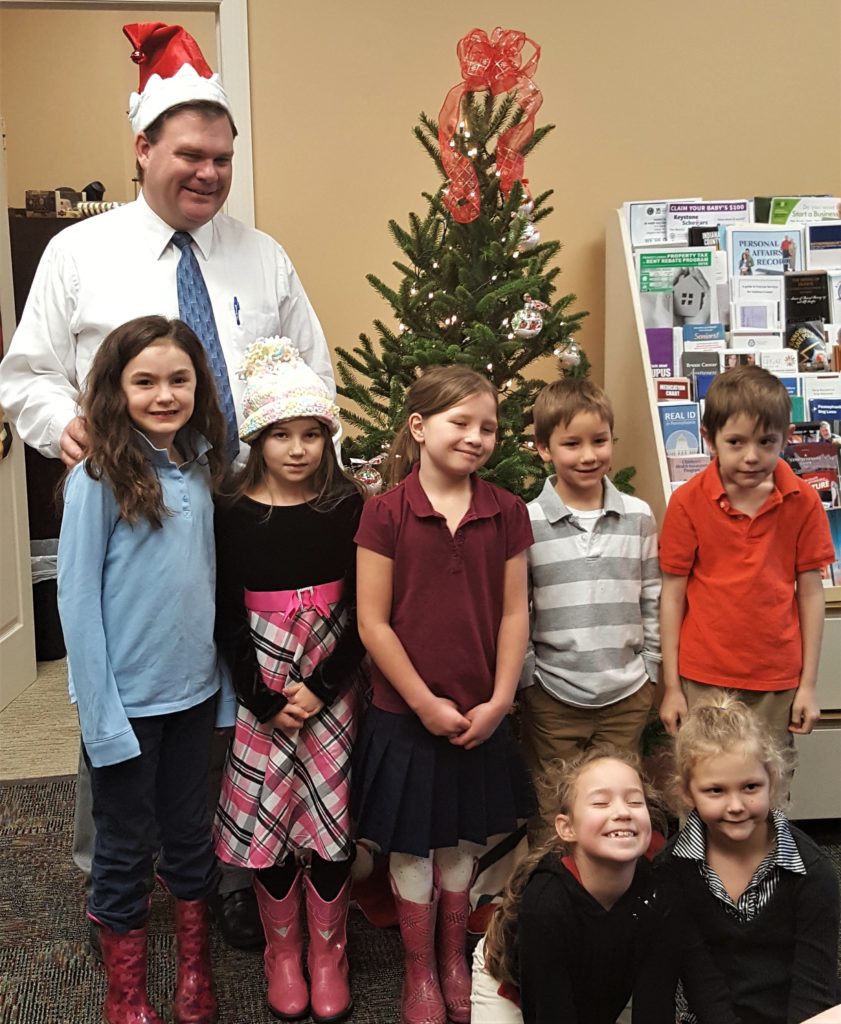 The Kindergarten, 2nd and 3rd grade classes from the Seeds of Faith Christian Academy, which is conveniently located a block away from my Indiana District office, stopped by on December 5 to decorate our Christmas tree, sing songs and enjoy a treat. The children decorated the tree with ornaments they created in their art class. A special thanks also goes out to Mytrysak's Tree Farm for donating the tree.
Governor's RGGI Proposal Imperils Local Jobs
With the flick of a wrist, a switch can be flipped and the warm glow of an electric light will dispel the darkness from our homes. Conversely, with the flick of a wrist, a document can be signed that could plunge many local households into the darkness and despair that comes with the loss of a family-sustaining job.
When Governor Wolf signed an executive order in October to have Pennsylvania enter the Regional Greenhouse Gas Initiative – or RGGI – he took the first step in a perilous process that could dramatically impact the lives of workers at the Conemaugh, Homer City, Keystone and Seward power generation plants and the miners who provide the fuel for those facilities. Collectively these power generators provide nearly a thousand direct jobs and several thousand more jobs through the production of the necessary fuel, transportation and maintenance of these facilities.
As a matter of reference, RGGI is a collaboration of nine Northeast and Mid-Atlantic states. The states (Connecticut, Delaware, Maine, Maryland, Massachusetts, New Hampshire, New York, Rhode Island, and Vermont) set a cap on total Carbon Dioxide (CO2) emissions from electric power generators in their states.
In order to comply, power plants must purchase a credit or "allowance" for each ton of CO2 they emit. The most recent RGGI auction (September 4) resulted in a "Carbon Tax" of $5.20 per ton. Notably, none of the current RGGI states is a significant coal region and as such coal-fired energy facilities are not major parts of their economies, nor are they job producers.
Entering RGGI is a decision of enormous consequence to every Pennsylvanian. RGGI paves the way for a tax to be placed on the emissions of carbon – the very gas we all exhale – from electric generation plants here in the Commonwealth.
When the Governor issued his RGGI executive order, he also said he wanted to work in a collaborative process with the General Assembly.
Taking that into account, I introduced Senate Bill 950 in the Senate and Representative Jim Struzzi introduced House Bill 2025 in the House of Representatives. These bills are identical efforts to affirm the General Assembly's role and accommodate the Governor's expressed desire for a partnership to move this process forward.
A unilateral attempt by the Governor to implement a carbon tax without legislative approval simply should not occur. By advancing our legislation we seek to ensure that our constitutional separation of powers remains intact.
While the debate about climate change needs to be taken seriously, this effort has much more to do with the authority vested in the General Assembly and accommodating the Governor's desired request for a collaborative process in deciding whether we move forward in joining RGGI.
I and several of my colleagues have invited the Governor to Armstrong and Indiana Counties to visit our power generation plants to speak with the women and men who work to keep our lights on and our homes heated. They are greatly concerned that a carbon tax puts their family-sustaining jobs at risk and will create an economic crisis throughout western Pennsylvania.
I look forward to the Governor's support of our legislation, as well as his visit to affirm to the employees and their families that he is truly committed to a government that works by protecting jobs that pay.
State Police Announce Thanksgiving Enforcement Results
The Pennsylvania State Police investigated 1,116 crashes during the five-day Thanksgiving holiday (Nov. 27 through Dec. 1), including seven collisions in which eight people were killed.
Of the 1,116 crashes investigated, 73 were alcohol-related and 247 people were injured. State Police made 729 DUI arrests over the holiday weekend. That represents a 14 percent increase from the 637 DUI arrests made during the same period in 2018. Troopers also issued 14,028 speeding citations, 1,366 citations for failing to wear a seat belt, and 205 citations to drivers for not securing children in safety seats.
These statistics cover only those incidents investigated by the State Police and do not include statistics on incidents to which other law enforcement agencies in Pennsylvania responded.
Grants Available to Support Job Training Programs
Workforce development boards, industry associations, post-secondary schools and other organizations may be eligible for grants to boost job training programs and help more Pennsylvania workers find family-sustaining jobs.
The Department of Labor & Industry is providing grants through its PAsmart Next Generation Industry Partnership program to help connect employers within the same industry in order to identify and address training needs for job-seekers. Applications and more information is available here.
Support Our Military Heroes During the Holiday Season
The Department of Military and Veterans Affairs (DMVA) reminds Pennsylvanians that the holiday season is a great time to give to programs that support the Commonwealth's veterans, active military and their families.
The four tax-deductible programs administered by the DMVA are:
Military Family Relief Assistance Program (MFRAP): The MFRAP provides financial assistance, in the form of grants, to eligible Pennsylvania service members and their eligible family members who have an immediate financial need based on circumstances beyond their control.
Veterans' Trust Fund (VTF): The VTF issues grants to statewide charitable organizations that assist veterans, veterans' service organizations and county directors of veterans' affairs to help veterans in need of shelter and necessities of living. The VTF also issues temporary assistance grants to individual veterans who have qualifying financial needs.
Residents' Welfare Funds: Residents' Welfare Funds at the DMVA's six veterans' homes help keep the residents active and healthy by providing activities, trips and entertainment.
Pennsylvania Veterans' Memorial Trust Fund: Located at Indiantown Gap National Cemetery in Lebanon County, and maintained by the DMVA, the Pennsylvania Veterans' Memorial is the first in the Commonwealth to honor veterans of all eras from the Revolutionary War forward and it is the largest veterans' memorial located in any of the national cemeteries.
To donate online or to learn more about the four tax-deductible programs go to www.donate.dmva.pa.gov.
Farm to School Grant Application Period Now Open
The Department of Agriculture is now accepting applications for Farm to School Program grants.
The program provides schools with grants of up to $15,000 to improve access to healthy, local foods and increase agriculture education opportunities for students in pre-kindergarten through fifth grade. Interested applicants can apply at www.esa.dced.state.pa.us/login.aspx until January 15, 2020.
PHMC Accepting Applications for Cultural and Historical Support Grants
The Pennsylvania Historical & Museum Commission (PHMC) is now accepting applications from qualified museums and official county historical societies for nearly $2 million in Cultural and Historical Support Grants.
This is the seventh year that the PHMC has worked with the state legislature to provide funding for museums through the grant program. A total of $2 million was included in the 2019-20 state budget for the program.
Applicants must meet organizational eligibility requirements. The PHMC website has eligibility information and grant guidelines. Applications must be submitted on the Commonwealth's Single Application for Assistance system by Tuesday, January 14, 2020.
Mark Your Calendar
The annual Trees for Troops event at Mytrysak's Tree Farm, 1803 Fleming Road, Indiana, will be held from 9 a.m. to 5 p.m. on Saturday, December 7. Trees for servicemen and women are available at a special price and will be sent to them and their families throughout the world. Come on out and have a fun-filled day selecting your own tree, as well as one for a military family.
I cordially invite the local community to a holiday open house at my Armstrong County District Office, 109 South Jefferson Street in Kittanning on Tuesday, December 17 from 11 a.m. to 1 p.m. This is a holiday tradition that Senator Don White started and I intend to continue. It is great to spend time with friends to celebrate the season.