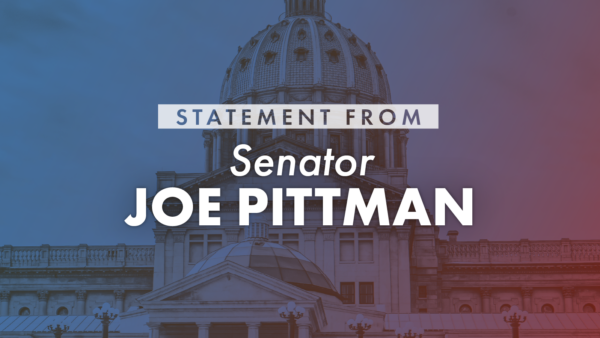 (HARRISBURG) – Senate Majority Leader Joe Pittman (R-41) issued the following statement in response to Gov. Shapiro's press conference on the state budget:
"Senate Republicans negotiated in good faith with Governor Shapiro on the state budget since the beginning of June, with the direct understanding that agreement with his Administration would translate into agreement with his majority party in the House. Unfortunately, it only became clear to me on June 30th that Governor Shapiro's Administration overpromised his ability to unify his own party and rally the support of House Democrats, for the budget deal he worked alongside Senate Republicans to build.
"I recognize Governor Shapiro and I have a clear disagreement in terms of our responsibilities in leading this divided government and I am disappointed in what has transpired over the last 24 hours. We have seen a fundamental weakness and breakdown of leadership with the governor's willingness to jettison one of his top priorities and acquiesce to the House Democrats' demand that educational opportunities not be afforded to every child of God.
"It is my job to continue to unite the other 27 members of the Senate Republican Majority Caucus. We remain steadfast in our work to restore confidence in this process, so that we may complete all necessary components of the budget, and demonstrate that divided government is not dysfunctional government."
Media Contact: Kate Flessner kflessner@pasen.gov