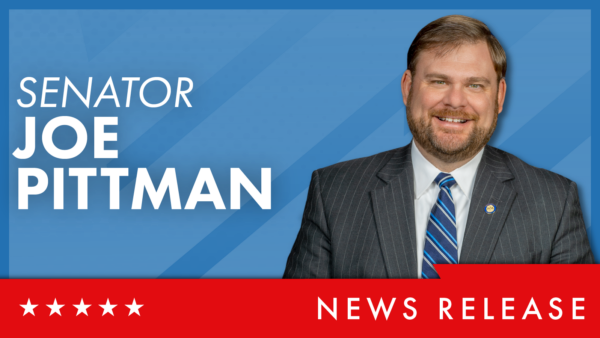 (KITTANNING) – Sen. Joe Pittman (R-41) will speak during a luncheon of the Alle Kiski Strong Chamber of Commerce on Wednesday, May 24.
The luncheon is scheduled for 11:30 a.m. to 1 p.m. at the Kittanning Country Club, 218 Bell Top Drive, Kittanning, PA 16201.
Sen. Pittman, in his role as leader of the Senate Republican Caucus, works with his colleagues to ensure the rights of Pennsylvania citizens remain safeguarded. He has been a champion for advancing legislative initiatives to create jobs, implement infrastructure improvements, support law enforcement and limit government overreach.
Prior to being elected by his colleagues to serve as majority leader in 2022, he served as chairman of the Senate Urban Affairs & Housing Committee, vice chairman of the Senate Environmental Resources & Energy Committee, and as a member of the Appropriations, Banking & Insurance, Consumer Protection & Professional Licensure, and Judiciary Committees. He was also a member of the Pennsylvania Infrastructure Investment Authority (PENNVEST) Board of Directors.
The senator is a lifelong resident of Indiana County, and represents the 41st Senatorial District in Armstrong, Indiana, Jefferson and Westmoreland counties. Addressing the needs of area residents through efforts to strengthen the local economy and increase access to family-sustaining jobs is Sen. Pittman's priority.
WHAT: Alle Kiski Strong Chamber of Commerce Luncheon
WHEN: 11:30 a.m. to 1 p.m., Wednesday, May 24, 2023
WHERE: Kittanning Country Club, 218 Bell Top Drive, Kittanning, PA 16201
Media Contacts:
Kate Flessner kflessner@pasen.gov
Lynda Pozzuto lynda@akstrong.com